Events at Merne at Lighthouse
Every Winter we put on a selection of special events to experiment with new cuisines and styles of dining.
Group Booking & Function Enquiries
For event & function enquires please fill out your details below and one of our team will be in touch to discuss your requirements, or call us on (03) 52515541.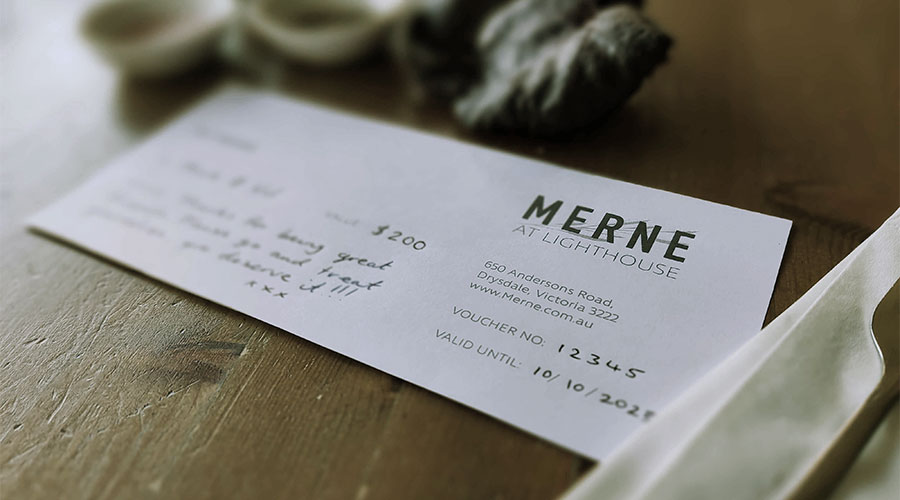 A GREAT GIFT FOR ANY OCCASION
Experiencing delicious local food and wine in pristine surroundings without having to open your wallet is something just about everyone would appreciate.
Best on the Bellarine Peninsula
We are very fortunate living on the Bellarine Peninsula-great beaches, surf, markets, wineries and food. It is the latter where Merne showcases the best of the Bellarine. 3 of us had lunch on Saturday and could not fault the fixed price menu (we chose the pork and barramundi for shared mains) both were superb. A good wine list and we were recommended the Spence 2016 pinot noir from the Moorabool valley-great choice. We loved it so much we have booked again in 2 weeks to show other friends from outside the area the best of the Bellarine.
A hidden gem with unique menu!
It is truly a hidden gem…..a good drive out from SE Melb but worth the effort! Upon arrival, the small but cosy dining area is well presented and has huge glass windows that allows you to see out into the open hills! We were repeatedly surprise by each serving, the so very well presented courses and favours! The food tasted amazing as it is uses plenty of organic grains and surprisingly WELL BALANCED, which is a massive effort and expresses the High level of cooking skills and knowledge by the chefs! The level of SERVICE is AMAZING too which we very much appreciated! Will be back soon as their menu changes with each season.
A Bellarine Treasure
This is our third visit to this wonderful place, and once again the experience was fantastic. Only a few kilometres from the heart of Portarlington, off the Queenscliff road and hidden amongst an olive grove, the setting is low key and relaxed. The staff are pleasant, welcoming and well informed. Choose from two set degustation options, we had the four courses and as has been the case previously, enjoyed all aspects. Presentation, design and flavours were perfect. The wine menu supports the best of the Bellarine's vineyards as well as an exciting selection of craft beers.